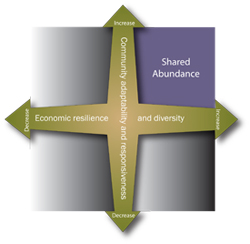 Our Shared Vision
The vision for Humboldt County is captured in the 'Shared Abundance' scenario for the future. While mining, agriculture, and tourism are still the important backbones of the economy, they are now part of a diverse economy that is complemented by other industries such as specialist manufacturing, value added resources, logistic services, and renewable energy. This diversification has reduced exposure to the 'boom and bust' nature of commodity cycles. The region has become known for its ability to apply creative entrepreneurial solutions and capitalizes on challenges and new opportunities.

Winnemucca and surrounding areas have pulled together in a cohesive way to create a vibrant and responsive regional community. A diversified economy has allowed for greater community prosperity, and has reduced the gap between the rich and poor. There is an expanded sense of community and Winnemucca has transitioned into a cooperative adaptable community that is shaping its own future. It is an inviting community that has high levels of active participation, good community infrastructure and a healthy culture and spirit. This makes the community attractive to young people and professionals who see a future for themselves in Humboldt County.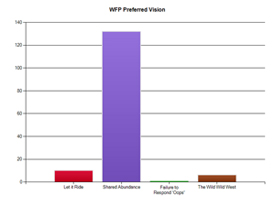 Surveys completed during the Winnemucca Futures Project have revealed a very strong consensus across the county that the Humboldt County 2030 Shared Abundance Vision for the Future accurately describes our shared aspirations.
Focus Areas:
The many participants at the "From Vision to Action" events agreed that in order to reach this future there are four strategic areas of focus that we must continue to nurture and develop:
Community Capacity
Build the leadership and education systems that stimulate new thinking and create opportunities.
Building the Foundation
Identify and invest in critical infrastructure foundations for future community and economic growth.
Collaborative Culture
Create an engaged and collaborative community culture that focuses on a shared vision.
Economic Diversification
Explore and develop innovative economic systems to capitalize on local strengths and embrace emerging industries.
-The Teams-
At the "From Vision to Action" event, groups of interested Humboldt County residents began a deep exploration of these areas while committing themselves to develop pathways to these goals.
Community Capacity Team
Dustin Boomhower
Mike Bumgartner
Jim French
Sue Hawkins
Andrew Hillyer
Arlene Lunen
Dale Lunen
Jim Kinney
Carra Otto
Dave Roden
Carrie Stringham
Will work on:
Education strategies and resources
Leadership development and youth integration
Future leadership is matched to and has capacity to fulfill the vision
Entrepreneurs trained in business literacy
Develop education / promote/ stay strong / compete globally
Outside experts to explore future trends
Capacity building to develop a large number of potential leaders for the many organizations that address issues across the community
Deliberate transition to new leaders
Transparency / volunteerism
Diversified education and vocational training
Building the Foundation Team
| Fred Baryol | Jim Billingsley | David Craig | Annie Drake |
| --- | --- | --- | --- |
| Leon Franklin | Laura Hummel | Mel Hummel | Ronda Hummel |
| Vince Mendiola | Hall Phillips | Brad Schultz | Steve West |
Will work on:
Communication Infrastructure
Downtown as an identifiable focal point of the Winnemucca Community
Development of infrastructure along West and East Winnemucca Blvd.
Resource Development – Funding Source Exploration
Engaging private industry as partners in attaining goals
Recreational area development
Where resources come from to create actions and shared responsibility – match needs with actions
Infrastructure such as technology and broadband
Community Center
Collaborative Culture Team
Bill Brewer
Stephen Dick
Donna Kiker
Alaine Kliewer
Betty Lawrence
Paola Magana
Bill McDonald
Kathleen Moran
Di An Putnam
Elizabeth Sanchez
Bob Shaw
Will work on:
Communication Infrastructure
Engaging private industry as partners in attaining goals
Communication in community: town hall meetings
Culture of being open-minded and accepting new ideas
Keep an eye on the horizon
Communicate the vision in the most appropriate way to different stakeholder groups
Engage youth and welcome newcomers
Bring together existing groups around the vision
Directory of Organizations – Centralized point of communication
Economic Diversification Team
Mike Bell
Paige Brooks
Kristin Carriere
Ron Cerri
Pat Donovan
Patrick Gray
John Himbert
Ken Hladek
Mike Meagher
Rich Stone
Will work on:
Targeted economic diversification
An economy that is robust and can withstand shocks
The continued collaborative development of an economic development plan
Assessment of attributes and matching needs with actions
Creating steady, continuous growth
Entrepreneurs trained in business literacy
Continue to develop and deploy innovative incentives
Focus on services, retail and industry support – retain what is strong in our community
Developing geological attributes
Employ outside experts to explore future trends – develop ongoing "Forums of Future"
These teams identified other individuals, groups, and resources who need to be at the table.  You may be called upon, and we hope you will contribute to these efforts.
If you have an interest in any of these areas of focus, or have ideas about how we might strengthen our communities, please contact one of the people listed above.  Get engaged and get involved, it is Your Home, Your Choice, and Your Future!
You can also contact us at winnemuccafutures@gmail.com or leave your name and a comment below.