The 2014 Futures Forum went off without a hitch. The ten representatives from local businesses each gave a 20 minute presentation on the recent histories and future plans for their respective organizations. Nearly 130 people attended the Forum from across the region and they had some great questions for the presenters. Overall, the day was a success.
If you attended the Forum, click here to take our survey so we can make next year's event even better.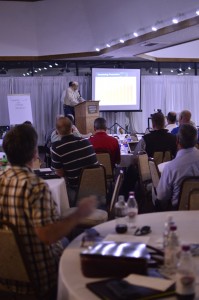 Here's what we talked about:
Introduction by Bill Sims
HDA Coordinator Bill Sims started the day out with a brief introduction of the goals of the Winnemucca Futures project, and the Forum as a whole. The purpose of the project and the day, he said, is to "build a shared vision for the future" for the area, and to focus the efforts of local leaders on these goals, while at the same time "creating a culture that is open to change".
Doug Barto – Newmont Mining
Barto discussed the overall climate of Newmont in Nevada. According to him, it's healthy. Twin Creeks, the largest Newmont operation in Nevada, has $254.3M in available cash, despite lower-than-projected gold prices in 2013. Their life-of-mine projections are strong, and Newmont expects to continue business in Northern Nevada for at least the next 8 – 10 years.
Jim Parrish – Humboldt General Hospital
Parrish discussed Humboldt General's ideas for expansion. The hospital has decreased its debt by $4M and now has $42M cash-on-hand. Much of this amount has been ear-marked for upcoming projects, which include an underground parking facility, upgrades to the obstetrics and surgery wings, and the opening of a 43-bed Alzheimer's care facility. Long-term goals for HGH include attracting more specialists to the area and increasing the size of the residency program.
Bret Murphy – Great Basin College
Murphy talked about Great Basin College's plans for expansion in Northern Nevada, in addition to plans to further develop their Vocational Training programs. These programs – some of which are funded partially by several local businesses – seek to assist students to train in the industrial positions which are so needed in the area. Murphy also mentioned the difficulties that GBC has faced in funding several of its programs, and that eight programs have either been suspended or eliminated from the curriculum.
Alan Means – Frontier Village & New Frontier
Means discussed several of New Frontier's projects. These included the expected opening of the Allied Nevada Gold man-camp, the opening of Wingers Bar & Grill, and the plans to construct an office facility. New Frontier has offered to donate land to the city for a Recreation Complex, and is interested in contributing to the planning and engineering designs for the facility, should the public choose to build it.
David Jensen – Humboldt School District
Jensen spent the majority of his time discussing a proposed High Tech Center which would be located near Lowry High School. The facility, should it be built, would support both Lowry High and Great Basin College in their efforts to educate local students in diesel technology, industrial electrician/hydraulics, and welding technology. These lucrative fields are projected to grow by 33% by 2020.
Dennis Bryan – Western Lithium
Bryan discussed the current and projected operations for Western Lithium. The company currently employs about 160 persons in Nevada, the majority of whom reside in Fernley. There are two Western Lithium facilities in Nevada, a hectorite clay and lithium mine outside of  Orovada and a processing and packaging facility in Fernley. Demands for lithium are expected to rise dramatically with the popularity of electric cars.
Matt Zietlow – Marigold Mine / Silver Standard Mining
Zietlow summarized the projected production for Marigold Mine in 2014. The mine has an expected life of 10-15 years, and is expected to produce between 140,000 to 150,000 ounces of gold this year. There are 338 employees and the operation is projected to expand to include 22 more employees by year end.
Clint Chapman & Mern Vatcha – Barrick Gold
Chapman and Vatcha discussed the activities at Turquoise Ridge Joint Venture. The site employed 375 persons last year and has expanded this year to 440. Most of these persons live in the Winnemucca area. The site is expected to produce upwards of 250,000 ounces of gold this year.
Carl Waggoner – Hycroft Mine / Allied Nevada Gold
Waggoner discussed improvements in personnel and property safety, MSHA reporting, and overall production at Hycroft Mine.  The site employs 436 persons, and expects to add 14 new employees in the coming year. Going forward, Hycroft intends to build a $1.7B mill, using atmospheric alkaline oxidation. This construction project could add an average of 475 people to the site during the building process. When completed, the site will require an additional 120 employees (in addition to their current employees) for operation.
Brent Kristof – Klondex Midas and Fire Creek
Kristof discussed the new purchases of Fire Creek and Midas Mines, and the intent of Klondex to use narrow-vein mining techniques to extract ore from these sites. Permitting to allow expansion at Midas and development of the Fire Creek project is underway.