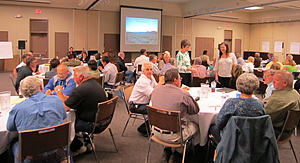 The "Scenario Planning Workshop" phase of the Winnemucca Futures took place on Wednesday June 2, and Thursday June 3, at the Convention Center in Winnemucca.
Eighty five people representing the social, environmental, financial, cultural, human, political, and built capitals of the area met to discuss the issues currently impacting the community and to contemplate the forces that are likely to impact the region in the future.
Lead by David Beurle and Juliet Fox of Innovative Leadership, the group first discussed many of the global situations which are impacting not only the future of the planet, but many of which have direct impacts on life and the economy in Humboldt County and Winnemucca.

Macro Trends & Forces of Change Related to:
Global power and wealth
Growth in Asia
Energy
Climate change
Water
Food security
Technology
LOCAL DRIVERS
Following the discussion concerning global and regional factors the participants were asked to discuss the major trends and forces impacting our own community. The following issues represent the factors felt by the group to be important in considering the future of the local community. This list is in no particular order or ranking:
Mining longevity and stability
Increasing Hispanic population
State tax base and revenues for education and other social services
85% Federal land ownership
Tourism and gaming and the economic impact on community
Aging population – becoming a retirement community and brain drain
Availability of water
Lack of broadband infrastructure and connectivity/integration
Community apathy and complacency / resistance to change
Availability of transportation
Development of geothermal resource
Vulnerable to volatility in energy prices / impact on local food security
Checkerboard lands
Local government vision
Recreation as an attraction to area
Agriculture price of crops and cattle
Success or failure of California's economy
Influx of 'new' industry
Availability of local health care services and Access to affordable housing
Lack of cultural arts infrastructure
After agreement was reached on the contents of this list, and while the information was being reproduced for further work by the group, discussion turned to the major attributes which make up a vital and viable community.
TOP TEN ATTRIBUTES OF SUCCESSFUL COMMUNITIES
The following is a list of the top ten attributes adapted by Innovative Leadership from the "20 Clues for Rural Community Success" from the Heartland Institute located in Lincoln, Nebraska.
1. Evidence of an inclusive community culture
Successful communities are often showplaces of care, attention, history and heritage. They celebrate their success and have a strong and positive local attitude and support a culture of risk taking and innovation. Diversity is often celebrated and people are welcomed.
2. Invest in the future – built to last!
People believe that something worth doing is worth doing right. In addition to the brick-and-mortar investments, all decisions are made with an outlook on the future. Expenditures are considered investments in the future, including investments in people.
3. Participatory approach to community decision making
Even the most powerful of opinion leaders seem to work toward building consensus. The stress is on working together toward a common goal and the focus is on positive results. People collaborate and share resources.
4. Creatively build new economic opportunities
Successful communities build on existing economic strengths in a realistic way; and explore new economic opportunities provided by the 'new economy'. They actively seek out new opportunities and ideas for new businesses.
5. Support local businesses
Local loyalty is emphasized, but thriving communities know who their competitors are and position themselves accordingly.
6. Deliberate transition of power to new leaders
People under 40 regularly hold key positions in civic and business affairs. Women (and people from 'minority groups') often hold positions as elected officials, plant managers, and entrepreneurial developers.
7. Strong belief in and support for education
Good schools are the norm and centers of community activity.
8. Strong presence of traditional institutions that are integral to community life
Churches, schools and service clubs are strong influences on community development and social activities.
9. Willingness to seek help from the outside
People seek outside help for community needs, and many compete for government grants and contracts for economic and social programs. They seek out the best ideas and new people to help build their community strengths.
10. Communities are self-reliant
There is a wide-held conviction that, in the long run, 'You Have to Do It Yourself'. Thriving rural communities believe their destiny is in their own hands. Making their communities good places is a pro-active assignment, and they willingly accept it.
HUMBOLDT COUNTY'S ATTRIBUTES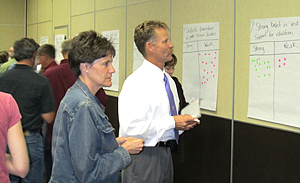 After some discussion each member of the group was asked to help rank these attributes as they believe they relate to our local community.
Participants were each given eight dots, four green and four pink, and asked to place their green dots on areas they felt the community was strong, and pink dots on the areas they felt the community was weak. As each participant was armed only with a limited number of dots, they could not cast an opinion on every one of the 10 attributes, but would have to decide which items they felt strongest about. If they felt especially passionate about any issue, they could also cast several of their green or pink dots on that single issue.
For these reasons, the ranking presented below in graphical form does not represent a one-man, one-vote tally adding up to the total number of people present:
The findings of this exercise are very interesting. Participants felt very strongly that the community holds ideas such as self reliance, the strong presence of traditional institutions, and a strong belief & support of education as key attributes of the community. Other areas such as creatively building new economic opportunities, a participatory approach to decision making, and deliberate transition of power to new leaders, were felt to be weak within the community according to the participants.
Following the attributes exercise, participants once again took up the list of drivers affecting the community. Each participant was asked to rank the importance of each of these drivers on the future of Winnemucca and the Humboldt County Area. Each was asked to rank, on a scale of one- to- ten, how important they felt the driver was to the future of Winnemucca, and then asked again, on a scale of one-to-ten, how certain they were that each factor would have an impact on the future.
After a very full evening, containing much thought and discussion, participants concluded the events for the night and planned to return the next morning to take up the analysis of this last exercise, and to begin to formulate these findings, along with all the ideas discussed during this first session, into four scenarios for the future.

Powerpoint Presentation Day One