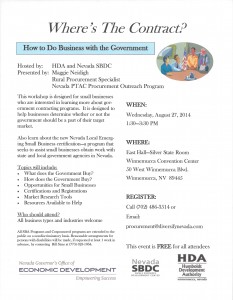 This workshop is designed for small businesses who are interested in learning more about government contracting programs. It is esigned to help businesses determine whether or not the government should be a part of their target market.
Also learn about the new Nevada Local Emerging Small Business certification—a program that seeks to assist small businesses obtain work with state and local government agencies in Nevada.
Topics will include:
 What does the Government Buy?
 How does the Government Buy?
 Opportunities for Small Businesses
 Certifications and Registrations
 Market Research Tools
 Resources Available to Help
Who should attend?
All business types and industries welcome.
All SBA Programs and Cosponsored programs are extended to the public on a nondiscriminatory basis. Reasonable arrangements for persons with disabilities will be made, if requested at least 1 week in advance, by contacting Bill Sims at (775) 623-1064.
View the flyer by clicking here or clicking on the picture above.